Monday, May 21, 2018
Good Tech, Bad Tech: How could tech for good be bad?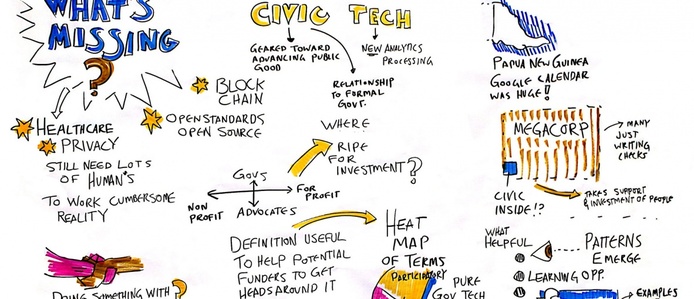 "Civic tech is what we find at the intersection of digital technology and actual public challenges." —Dave Karpf, associate professor at George Washington University and author of The MoveOn Effect and Analytic Activism
"Civic tech provides an opportunity to engage citizens in governance beyond simply voting every two to four years. Civic tech promises a more egalitarian public sphere. Civic tech is about deepening democracy." —Hollie Russon Gilman, Open Technology Institute and Political Reform program fellow at New America and author of Democracy Reinvented: Participatory Budgeting and Civic Innovation and America
"For me, the term civic technology is inextricably related to the world of civic hacking…Distilled to its essence, civic hacking is the existence of a condition that is suboptimal in a neighborhood, community or place, and a desire to effect change on that condition." —Mark Headd, innovation specialist at the Technology Transformation Service (18F)
"Civic tech is when we apply technology toward shared problems and opportunities." —Matt Stempeck, formerly the digital mobilization lead at Hillary for America and director of civic technology at Microsoft
When Micah Sifry and I launched Civicist as Civic Hall's news site covering civic tech in May 2015, we asked our contributors, including those quoted above, "What is civic tech?" Rereading their responses now, just three years later, is a bittersweet exercise. The overall impression—one appropriate to the launch of a new publication dedicated to the subject—is of hope.
"The old way of delivering government services is over," wrote Mark Headd. "Civic technology—technology we build together—is the future."
The definitions given then, as now, tended to be broad. "'Civic technologies' are tools we use to create, support, or serve public good," wrote Laurenellen McCann, currently an educator and curriculum developer at Johns Hopkins University Center for Government Excellence. This fit with the "big tent" approach that my colleague Micah articulated in his inaugural Civicist post, and became the organizing principle of Civic Hall at large.
As a journalist, there's something strange about covering a sector defined, not by what it is or does, but by its assumed or intended value to society. After all, how can there be bad civic technology when civic technology is, by some definitions, "technology for the public good." How could tech for good be bad?
Even more specific definitions of the field make assumptions about its innate worthiness. Take, for example, a description given on a Code for America event page in 2014: "Civic technology is technology that's spurring civic engagement, enhancing citizen communications, improving government infrastructure, or generally making government more effective." Civic tech spurs, it enhances, it improves, it makes more effective—if it's bad, it surely cannot be civic tech! It would seem as though civic tech must be above reproach or criticism.
We know, of course, that this is not the case. Like other tools, civic tech can create winners and losers. Last year, I wrote at length about a Detroit-based mapping company that operated on the assumption that transparency and open data tools are intrinsically good, even though speculators and opportunists were better positioned to benefit from their work than the Detroit residents hit hardest by the foreclosure crisis. Sometimes, so-called civic technology can reinforce power inequities.
Dave Karpf acknowledged this possibility when he tried to define civic tech three years ago. "Civic technology initiatives don't always work," he wrote. "They can have unintended consequences. They can be overly idealistic. They can be based upon overly-rosy assumptions about how governments, partisans, and mass publics will behave." (That last observation turned out to be remarkably prescient about the world in general, actually.)
It's worth noting, too, that many of the qualities civic tech is celebrated for—see the Code for America descriptors above—are value neutral. If a pro-gun group uses NationBuilder to coordinate local meetings and improve the way in which its members communicate their needs to government, it's spurring civic engagement. And when Immigration and Customs Enforcement uses Palantir to more speedily arrest undocumented immigrants, it's making government more effective.
Last fall, Wired covered a recent proliferation of food stamp-related technology, including Propel's budget-tracking app FreshEBT, and Code for America's GetCalFresh program. "There is an endless variety of apps designed to manage life for the upper middle class, but low-income Americans—a group that spends a disproportionate amount of its budget on basic necessities—don't benefit from the same time-saving hacks," Tonya Riley wrote. "Thanks to new trends in civic technology, that's beginning to change. Young tech workers have increasingly noticed the wide-open opportunity to bring disruption to outdated social programs."
In fact, disruption had come for "outdated social programs" already. A decade previously, an expensive "modernization" attempt in Indiana led by IBM resulted in more than a million residents losing benefits like food stamps and Medicaid.
As Virginia Eubanks reported for The Nation in 2015, "Central to the plan was "remote eligibility": Rather than applying in person at county welfare offices, Hoosiers would submit online applications, fax in supporting documents, and then be interviewed by private call-center employees." Taken out of context, that doesn't sound too bad! Moving the benefits application process online is progress, right?
"We will make America's worst welfare system better for the people it serves, a much fairer deal for taxpayers, and for its own employees," Republican governor Mitch Daniels boasted in a press release announcing the plan.
If only it had worked out that way. The new system was so terrible it is difficult to know where to begin. As Eubanks reports in her 2018 book Automating Inequality, people would skip work to wait for a scheduled phone call for hours and it wouldn't come during the specified window; when they missed the call that came (often unscheduled) the following day, they lost their benefits. Historical records were removed from local offices and sent to storage, but not digitized and moved into the new system, so benefits recipients had to resubmit all of their documentation. More than 280,000 documents faxed to a processing center in Grant County were lost—each missing piece of paper a reason to deny someone benefits, which was communicated via a vague error message sent through the mail that said, simply, that their benefits were being denied for "failure to cooperate." The letters did not explain in what way the applicant had failed to cooperate, or how to fix it.
After the governor's friend Mitch Roob, who oversaw the implementation of the system, was booted, his replacement at the Family and Social Services Administration, Anne Waltermann Murphy, demanded IBM address no fewer than 36 service deficiencies, including, Eubanks writes, "excessive wait times, lost documents, inaccurate data, interview scheduling problems, slow application processing, and incorrect instructions to clients."
This was clearly a catastrophic technology failure, a case of very bad tech—or was it? Eubanks reports that the initial request for proposal (RFP) stipulated that "Respondent will help address this issue by agreeing to use welfare eligibility and other programs to help clients reduce dependency on welfare assistance and transition into a paid work setting." It went so far as to promise bonuses for "reduc[ing] ineligible cases." The state of Indiana asked IBM to get people off of welfare, and you can't say that IBM didn't deliver!
Before the backlash gained momentum—the new system was eventually decried even by members of his own party—Governor Daniels praised the modernization as "better than what preceded it." So you have to wonder whether it was really a failure, or if the government just got caught failing on purpose.
Even if we know that civic tech can be bad in theory, in practice its presumed goodness creates sometimes-absurd disconnects in the conversation. It seems ridiculous to consider the events in Indiana as an example of civic tech, when the entire modernization attempt was so horrendously bad nobody could ever confuse it for tech for the public good. Yet if it hadn't failed so spectacularly (or worked a bit too well, depending on your perspective), could we be praising it for bringing "outdated social programs" into the 21st century?
This worm of a thought wriggled in my mind as I read Riley's report in Wired on the wave of startups seeking to "disrupt" the food stamp system. Nobody could confuse what Code for America is doing with GetCalFresh with Indiana's botched modernization effort. For one, their objective is the polar opposite of what Governor Daniels had asked for: to close the participation gap and help enroll the approximately two million Californian residents who are eligible for Supplemental Nutrition Assistance Program (SNAP) benefits but not participating, and to do so in an "accessible, dignified, and effective way."
Where Governor Daniels aligned himself with the mythical put-upon taxpayer being bled dry by the welfare state, GetCalFresh and Code for America have aligned their project goals with those of the people they serve—SNAP-eligible Californians. This already makes a world of difference in the development of a technology platform. But some of the rhetoric around the two projects is quite similar.
"This is the first site that lets you apply for CalFresh [SNAP is known as CalFresh in California], on your phone," Leo O'Farrell, the CalFresh Program Director at the San Francisco Human Services Agency, said. "You are not tethered to a computer…you don't have to visit an office. You can do it wherever you are."
These two projects aren't the same simply because both sought to update older, inefficient, and poorly-working technology—but they do have that in common. And in any case where more responsibility is being shifted to machines, to code, to algorithms—as Eubanks argues so well in her book—extra attention should be paid to what happens next, good or bad.
I recently hopped on the phone to discuss GetCalFresh with Code for America's chief program officer ST Mayer, GetCalFresh director and co-founder Dave Guarino, digital marketing manager Amy Koch, and Maria Buczkowski, an associate at the communications firm Vrge Strategies. After sharing updates on some of their most recent numbers—GetCalFresh is now in 33 of California's 58 counties and has processed approximately 130,000 household applications, which translates to some 260,000 people helped—our conversation turned toward the philosophical.
Guarino objected to the phrase "welfare technology," which I had used in my initial email to the Code for America team, on the grounds that it is stigmatizing.
"I think the use of that word in particular has some connotations, particularly right now because the administration just put out a thing basically saying the welfare rolls are the biggest they've ever been, when what they're talking about is Medicaid enrollment," Guarino said. "And I think that it's a little bit not totally right framing when welfare is traditionally thought of as cash assistance and that is at almost the lowest levels it's been at since the block granting of TANF (Temporary Assistance for Needy Families) years ago. I'm sorry that's sort of a separate point but that is part of it. That framing actually matters a lot."
While I see his point, reading Eubanks only made me more convinced that it is necessary to discuss GetCalFresh in the context of welfare in the United States, which has a legacy of discriminatory technology, programs, and practices. Eubanks calls this legacy the digital poorhouse. This is not meant as an indictment of the Code for America program but an acknowledgement of the system within which they are operating and, to a certain extent, reinforcing.
I'm not saying that Code for America is reinforcing discrimination, but the assumption of projects like GetCalFresh is that the government wants to help people—that if there was a cleaner, frictionless user experience that the government (and the taxpayers) would be thrilled to turn over SNAP benefits to an additional two million people. The question is, why don't they already?
"If they wanted you to have benefits, it would just be in your bank account," said Melanie Lavelle, the co-founder of Benefit Kitchen. "The friction of having to apply creates all the drama."
Benefit Kitchen offers anonymous screenings for people to find the federal, state, and local benefits for which they are eligible, and estimates how much they could receive in assistance. Lavelle explains that this "empowers" people to do a cost-benefit analysis and decide whether they want to apply.
Lavelle said she wants to change the paradigm from having people approach social workers and ask if they are eligible for benefits, to people asserting their right to the benefits "they've earned."
Arguably any platform, tool, or program that makes it easier for people to apply for benefits that should be dispersed automatically reinforces and legitimizes a system that dictates that people who happen to be poor must jump through this hoop, and this hoop, and this hoop over here, just to get the benefits to which they are entitled. This gets at one of the deepest tensions within the civic tech community—whether meaningful social change can come about through incremental change, or if it requires systemic upheaval. Choosing one or the other shouldn't disqualify someone from the big tent, but it is a choice. Realistically, we probably need both; incremental change can provide immediate relief (and a safety net) while we wait for systemic change to take place. (A different question that I'm not equipped to answer is which approach should get the bulk of the funding, support, and enthusiasm from within the civic tech space.)
The driving mission of both Benefit Kitchen and GetCalFresh are the same—to enroll more people for the benefits they deserve—but the approaches they take are different. Code for America has wiggled itself into the broken system it's trying to change, bit by bit, from within; Benefit Kitchen is working on hacking the same broken system from without, by empowering people in need with information to make informed decisions, and—a more recent strategy—by partnering with other organizations, like hospitals, that are financially invested in getting their customers benefits like Medicaid. Both approaches—all food-stamp-related technology, in fact—should be considered in the context of the long, troubled history of welfare in the United States, if only because it is that important to get it right after a long history of wrongs.
When it comes to civic tech, I am still all for the big tent designation, if only because I think comparisons like the above are essential, and that a bigger conversation is helpful. However, perhaps the civic tech ideal could use some fortification.
A comparison to the field of journalism here might be apt. There are many kinds of journalism—advocacy journalism, broadcast journalist, citizen journalism, data journalism, investigative journalism, radio journalism, tabloid journalism. One could call it a big tent, and some journalism is objectively (and subjectively) better than others. Some journalists say their job is just to report the truth, "without fear or favor." Others don't even bother to do more than pull eyeballs. But there is also a higher journalistic ideal, frequently (mis)remembered as "The job of the newspaper is to comfort the afflicted and afflict the comfortable."
Now that's a pretty swell goal, and not just for journalists.
Civic tech should strive to empower the powerless—not as a byproduct, but as a foundational premise. If it shifts power away from the powerful, so much the better. Maybe this dictum suffers from some of the same flaws as the definition "tech for the public good," but I think it also helps clarify things. It at least gives a metric by which one can start measuring impact. And it still allows for a multitude of tactics, from the steady, quiet reforms from within advanced by Code for America, to the more independent, hacking-the-system-from-without tactics of Benefit Kitchen.