Thursday, June 27, 2019
Love City Club Conversations? Then Attend Common Ground this Sunday!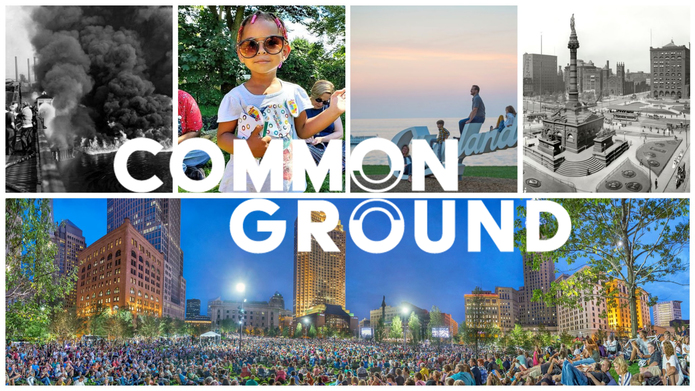 By Sophia Brewer Thompson, Development and Programming Intern, The City Club of Cleveland
Sunday, June 30 is the Cleveland Foundation's annual Common Ground, an exciting region-wide initiative to explore our community's power to communicate and connect in order to build a stronger, safer and more dynamic home.
Anyone can host an event, from corporations and nonprofits to community organizations — and even individuals in their homes. This year's theme is:
My environment was…
My environment is…
My environment will be…
If you're unsure which Common Ground events to attend, let us help! We've selected a few that complement upcoming City Club forums. All sessions occur on Sunday, June 30 and are free, but you must register your participation here.
Environment
This year, our popular For the Love of Cleveland series highlights the state of our local environment in four free, outdoor summer forums, each themed with one of the four elements. With the recently celebrated 50th anniversary of the Cuyahoga River fire of 1969, climate chante and sustainability has been a hot topic in Cleveland. Coming up in July, we will be discussing Air and Fire. Common Ground provides more opportunities to engage in these critical conversations with the following sessions:
Common Ground: Conservation Conversations
10 a.m. - 12 p.m.
Plastic Surgery: Cutting Plastic Out of Your Life (Flats/Downtown)
10 a.m. - 12 p.m.
Greening Our Community, a Conversation with Holden Forests & Gardens
12 p.m. - 2 p.m.
Common Ground - A Neighborhood Conversation about our Environment
2 p.m. - 4 p.m.
A GREEN NEW DEAL: Mobilizing Our Community For a Just, Healthy and Livable Future
2:30 p.m. - 4:30 p.m.
Education
The January 2019 announcement that Cleveland was chosen as the next city for Say Yes to Education, an educational initiative that provides struggling urban areas with college access resources, has brought hope to our community. Diane Downing, Executive Director of Say Yes to Education Cleveland, will be joining a group of distinguished local leaders at the City Club on August 23. Attend a Common Ground conversation on this initiative this weekend, then continue the discussion at the City Club in August.
Say Yes Cleveland: Changing Our Educational Environment
12 p.m. - 2 p.m.
This fall, the City Club will feature education forums with Dr. Bettina L. Love, CMSD CEO Eric Gordon, and Tri-C President Alex Johnson. Prep for these forums by checking out the following related Common Ground sessions:
Creating Equitable Teaching Environments
12 p.m. - 2 p.m.
The Educational Environment for the African American Community.... Past, Present and Future......Where Do We Go From Here?
1 p.m. - 3 p.m.
Economic Opportunity
Common Ground sessions on wealth disparity and mobility complement our upcoming forums with Edgar Villanueva discussing Decolonizing Wealth on July 17 and Building Opportunity in Today's Labor Market, featuring Maureen Conway of the Aspen Institute, on August 2. Let's bring these discussions of capitalism and equity together this weekend with the following events
Does my past financial environment affect my future?
10:30 a.m. - 11:30 a.m.
Cleveland Rising: Accelerating Economic Growth, Equity and Opportunity (Common Ground event at Harvard-Lee)
1 p.m. - 3 p.m.
Technology
Jennifer Pahlka will be doing a forum on For the People, by the People, in a Digital Age. How does technology affect, positively or negatively, our freedom of speech?
Finding Common Ground in a Shifting Media Landscape
11 a.m. - 1 p.m.
Past forums
On June 7, 2019, the City Club hosted a forum with the President and CEO of MetroHealth, Akram Boutros, M.D. Follow up with MetroHealth's Common Ground session, where themes of "our built environment, the natural environment, and our social, cultural, and economic environment" will lead the conversation, while asking "What If?" Did you miss Dr. Boutros' forum at the City Club? Check out the archived video.
Imagine "WHAT IF?" with MetroHealth
10:30 a.m. - 12 p.m.
See you at Common Ground!