Thursday, July 22, 2021
A Guide for Returning to the City Club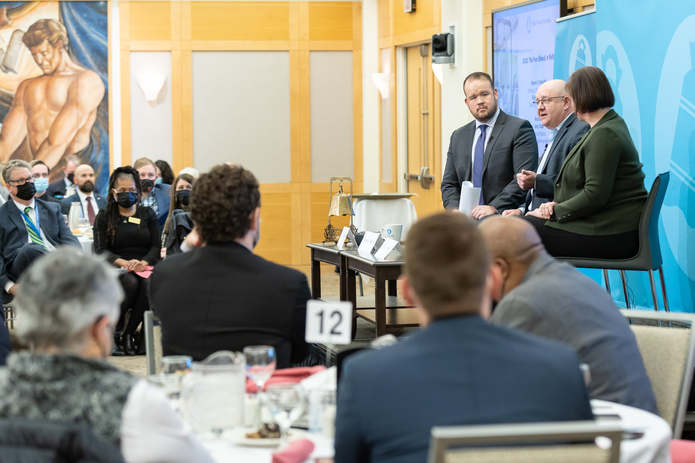 As we continue to navigate the Covid Pandemic, our team has put together a handy guide so that you feel prepared and excited to join us for our upcoming in-person forums.
Masks
Vaccine Policy
Guests are required to show proof of vaccination OR a negative COVID test.
Acceptable forms of proof include physical vaccine card, photo on your phone of vaccine card, photocopy of vaccine card, proof of vaccination via a health app (MyChart, Clear, etc.)
Results of a negative COVID test must be from within 72 hours of the start of the City Club forum.
Social Distancing
Please practice social distancing when appropriate.
There will be 8 guests seated per table. If you are attending the forum with friends, family, or colleagues please arrive early to ensure you can sit together
Parking
The City Club offers a partial validation ($3) to guests who park in the Euclid Prospect garage, located next to our building. Discounted valet parking is also available for $10 at The Metropolitan at the 9 Hotel.
Please see our staff at the desk to get a validation ticket or sticker.
Members at the Civic Enthusiast ($500), Civic Champion ($1,000) and Civic Leadership Circle ($2,500) levels receive free parking validation.
There is a skywalk from the garage to our building. You will enter our building on the 3rd floor and the City Club is on the 2nd floor.
We encourage you to use the stairs from the lobby or the second floor.
Registration
As a reminder, you do not need a ticket or confirmation email. Simply share your name with our staff at the registration table to check in and receive your meal ticket.
Walk-In attendees are not permitted at this time. You must be registered in advance.
Lunch
Like before, we will have 2 meal options available. If you have a dietary restriction or food allergy, please let us know as soon as possible. We cannot accept any meal requests the day of the event.

Please reach out to our staff with any additional questions or concerns at 216.621.0082 or info@cityclub.org. We cannot wait to see you!