Monday, September 11, 2023
Why We Changed the Name of the Cleveland Baseball Team
Why we changed the name of the Cleveland baseball team.
Paul Dolan, Chairman and owner of the Cleveland Guardians, was recently the recipient of the American Jewish Committee's Richard H. Adler Community Leadership Award. The AJC is a global advocacy organization with a very strong presence in Cleveland. The Adler award is part of their Cleveland-focused work to honor those who stand with them against antisemitism and bigotry. Dolan, who has served on the boards of the Cleveland Foundation, Cleveland State University, Greater Cleveland Partnership and recently chaired the board of the United Way of Greater Cleveland, received the award Thursday, September 7, 2023, at the Mimi Ohio Theater. In his remarks, he provided a nuanced look at the reasons behind the baseball team's name change and its importance. Those remarks are excerpted here, with Paul Dolan's permission.
I am often asked what is the best part about being an owner of the Cleveland Guardians. Because I have not had the experience of riding in a parade down East 9th St., I cannot use that as an answer. I do have a standard answer. I enjoy taking people down to the field before a game. Whether they are children or adults of any age, there is something magical about the experience for anyone who loves the game. And it does not get old.
But there is another answer. Possibly a more honest answer. I have really enjoyed the people I get to meet because of my job. As you might expect of an MLB owner, I have had the chance to meet celebrities from all sectors, politics, business, arts and whatever. You may recall opening day last year. Spending that morning with Tom Hanks is a day we will not forget. More to my liking, because of the opportunities for engagement team ownership has afforded us, I have met so many people in our community who have committed their lives to serving our community. If you were at Ronn Richard's celebration, you heard him speak of the Unheralded Heroes who work tirelessly to help others and to make all of our lives better. Possibly the greatest pleasure I get from the board work I am able to do, is it to meet and get to know these many heroes…. In what at times seems like a negative environment, you might be surprised the vast, vast majority of my encounters with fans have been kind and supportive. They care about the team, the city and are understanding of most of the challenges. It is usually people at their best.
All this has greatly enriched my life and for that I am forever grateful to my family, particularly my uncle and father who made all this possible for me.
So you might wonder why I bring all that up. I was reminded of all this when I saw the list of past recipients of the Adler Award. I was struck with the knowledge I know, or knew, all the past recipients. Some of them I consider friends. All of them I respect and admire for what they accomplished in their lives and the impact they have had on the lives of so many in our community. I am honored to be included in their ranks and am grateful to the AJC for this award that puts my name on that list. Short of getting that ride down East 9th St., I can't think of anything better.
…
I also want to recognize the men and women from the Cleveland Guardians. I get thanked and congratulated so often for things our organization has done that I didn't even know about until I was being thanked or congratulated. They make me look good far more than I deserve. I believe we have one of the best organizations in sports and as a result, I have more time than people realize to commit to causes throughout our community. So I can only accept this award by recognizing this is a team effort made possible by so many in our organization.
…
I would like to take the rest of my time talking about why I think I am here tonight and why it's relevant to the work I believe we all support by being here tonight. Short of winning a couple of World Series titles, I suspect my legacy as team owner will be the team name change. While I would like to have those titles, I am very proud of a legacy tied to our decision to change our name. And I think that decision aligns with the work of the AJC. Its founders in the early part of the 20th century sought to preserve the Jewish way of life, which was under siege in many parts of the globe from anti-Semitism. They realized in order to do that, they needed to work towards a society where all people were afforded dignity and understanding.
For over a hundred years we used the name Indians in the belief our use of the name was harmless and no real effort was made to understand what Native Americans have actually thought about the use of the name, nor to learn how they experience our use of the name. In the wake of the civil unrest following the George Floyd murder, we decided it was time to find out. What we learned was our name robbed many Native Americans of the dignity of having a real identity. It fostered misunderstandings about Native Americans by perpetuating pop culture generated stereotypes about them depriving them of the dignity of being recognized for who they really are. Many were subjected to many forms of hatred spawned from these misunderstandings. Hatred that caused real harm within the Native American community, particularly to its young people.
Some proponents of continuing to use the name said to us, "Why listen to the complaints from a group so small? Particularly when the presumed majority means no harm, and sees no harm." Well, we spoke to more than just the Native community. We spoke to representatives of many other minority groups in our community about our use of the name Indians and its impact on the Native community. These people universally understood the same thinking, whether benign or malignant, that led to these misunderstandings about Native American people, have similarly impacted their communities. And that if it persists with the indigenous community, it will not disappear anywhere.
So we made the decision to change our name. In doing so, I believe we embraced and advanced the work of the AJC. Hate is not parochial or partisan. It's like a pandemic, it has to be stopped everywhere. The AJC recognized that fact over a hundred years ago and has been battling ever since to eliminate hate wherever it arises.
We are pleased to join that fight. And I am honored to be named an Adler Award winner and join the ranks of the women and men who have sought to make Cleveland a better place for all Clevelanders. Thank you.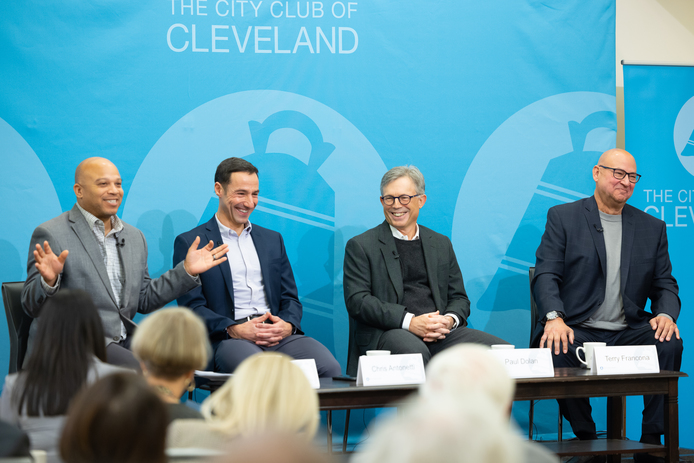 (L/R) Andre Knott, Chris Antonetti, Paul Dolan, and Terry Francona at City Club Jan. 23 ,2023